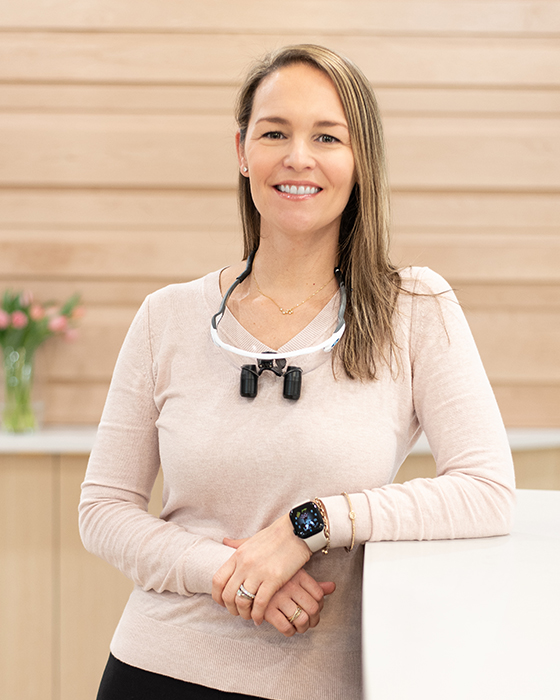 Dr. Colette Vallee
Dentist
Dr. Vallee is a general dentist practicing all areas of dentistry and is a co-owner of Bedford Dental. She graduated from Dalhousie Dental School in 2005 with the honour of receiving the University Medal for Dentistry. Prior to Dalhousie, she received an Honours Bachelor of Science degree from Mount Allison University in New Brunswick.
Dr. Vallee is dedicated to providing the highest quality of comprehensive dental care for her patient families. She practices all areas of family dentistry, but takes a special interest in implant and esthetic restorative cases as well as endodontics (root canal work). From 2005-2009 she was a part-time clinical instructor in the fourth year implant elective at Dalhousie University. In 2007 she received extra training in implant surgery making it possible to perform implant placement surgeries at Bedford Dental. Dr. Vallee has implemented digital dentistry into her practice and has found a new passion for using a digital scanner and milling unit to fabricate Cerec crowns at Bedford Dental in one visit.
Dr. Vallee is known for her kindness, compassion and cheerful, positive attitude. Her smile and easy conversation make patients feel welcome in her operatory. Dr. Vallee has always said that her long term, meaningful relationships with her patients and staff are her greatest joy and privilege in her professional life. Outside of the office, she is busy raising her three children with her husband Mark. Besides cheering on her kids in all their sports and activities, she enjoys cooking, travelling, skiing, hiking, and playing piano.